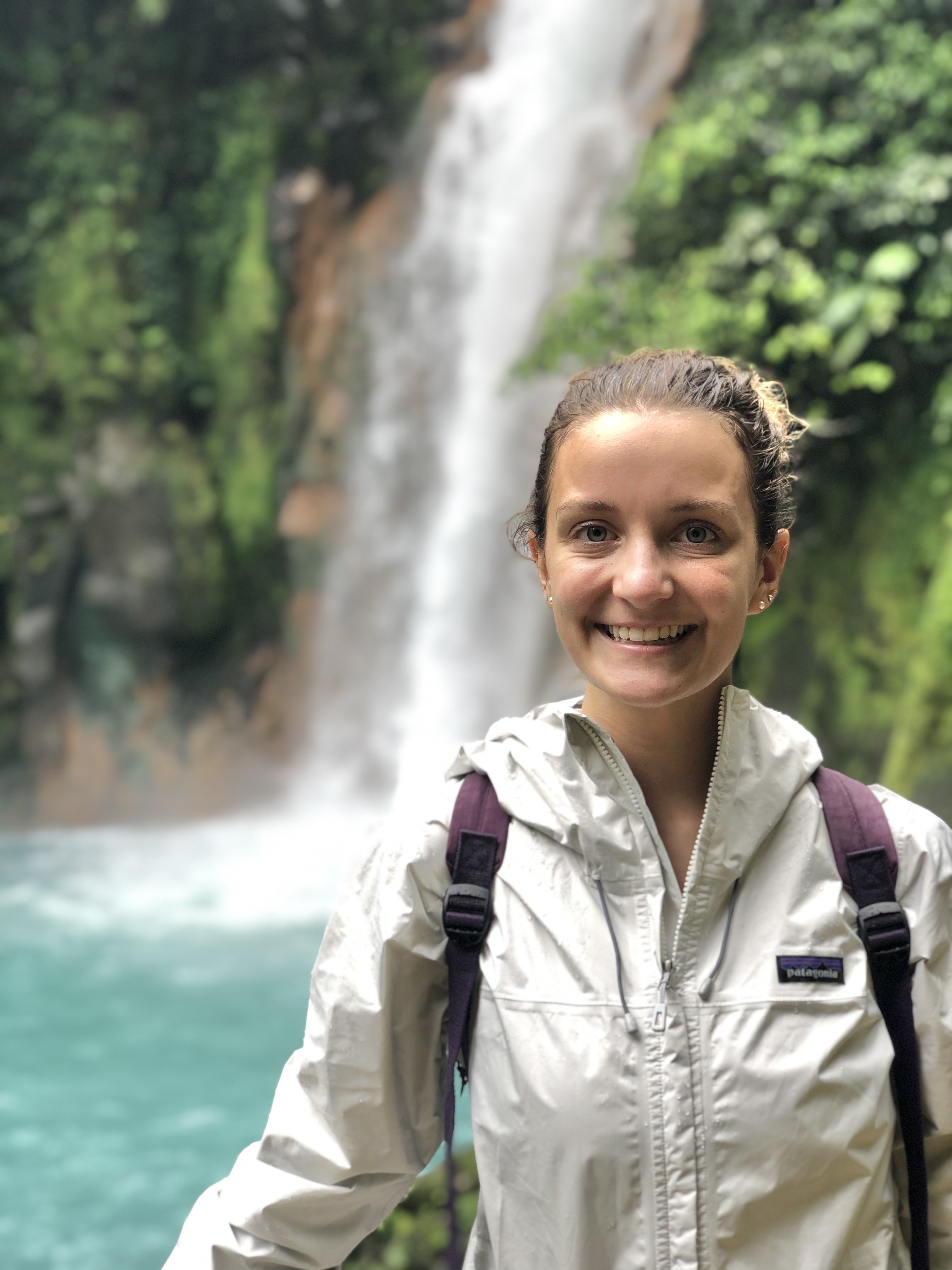 Rachel Platt
Product Designer
BizTrip
Itinerary & Opportunity Management Application for Business Travelers
Project Overview
I completed this project as a 3 day design challenge during the interview process for my current role.
I was tasked to design a vision for BizTrip, a business travel management application for millennial business travelers.
Goals
Using BizTrip, business travelers can manage the following aspects of their trip in one, central application:
Manage their daily itineraries and travel options.

View & interact with local customers during their travel.

Schedule & manage meetings with customers during their travel.
Responsibilities
Secondary Research, Persona Development, Wireframing, UI Design
Understanding our User
Given the short timeframe of this project, I relied on secondary research and one phone interview with a friend who travels frequently for work.
I wanted to understand how millennial business travelers' manage their customers, travel itinerary, and expenses while on the road.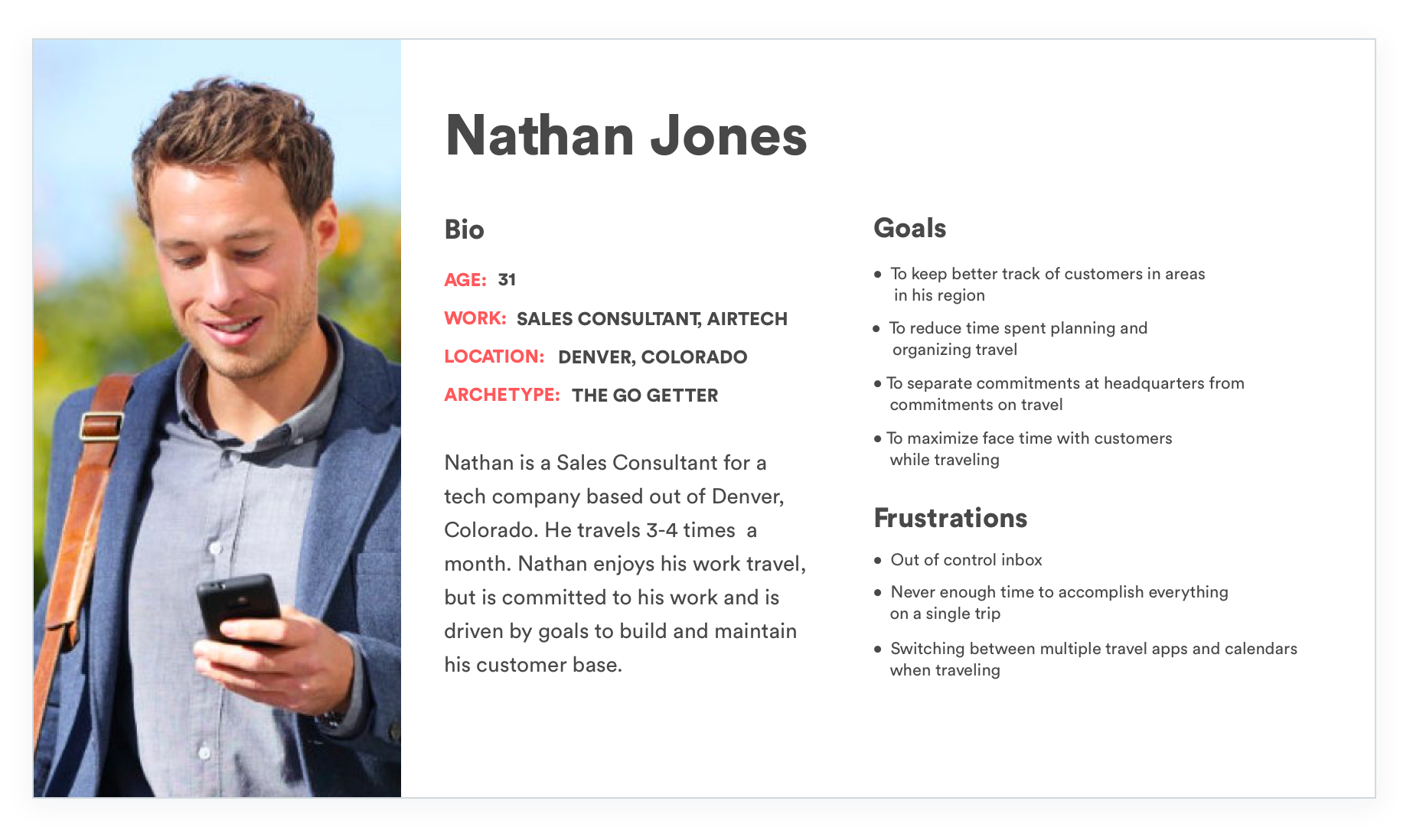 Persona Development
At this point, I compiled insights from my research into a persona representing our target customer, Nathan Jones.
I would refer back to Nathan's behaviors, goals, and frustrations through the rest of the process to ensure BizTrip would help him achieve his goals & relieve his frustrations.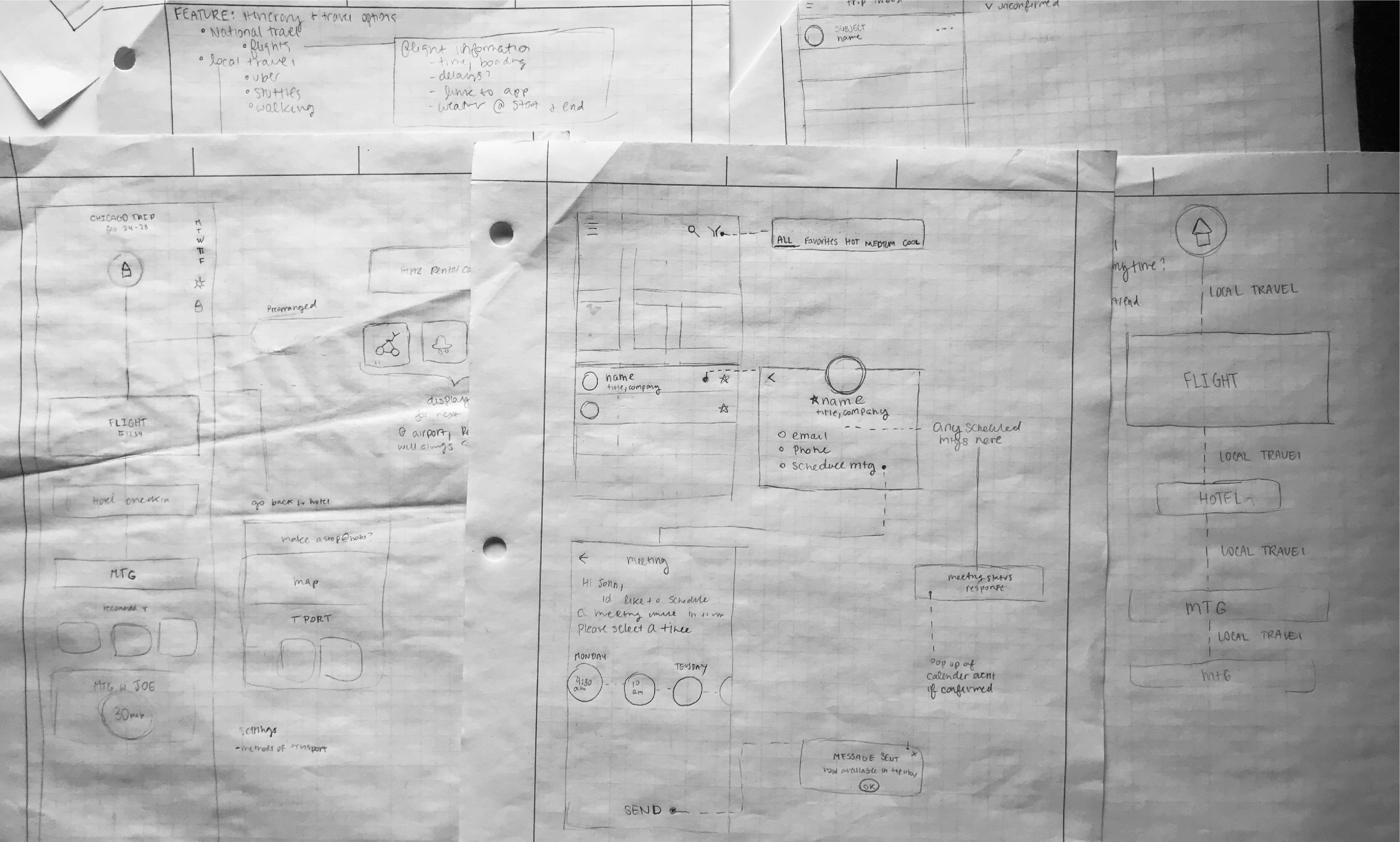 Sketches
I needed to quickly brainstorm ideas for BizTrip, so I began sketching.
The main purpose was rapid idea generation, for layouts and user flows. I evaluated which sketches to move forward with based on our persona & competitive research.
Unfortunately, I didn't have time to do any usability testing. With more time, this would have been a great opportunity for user testing with paper prototyping.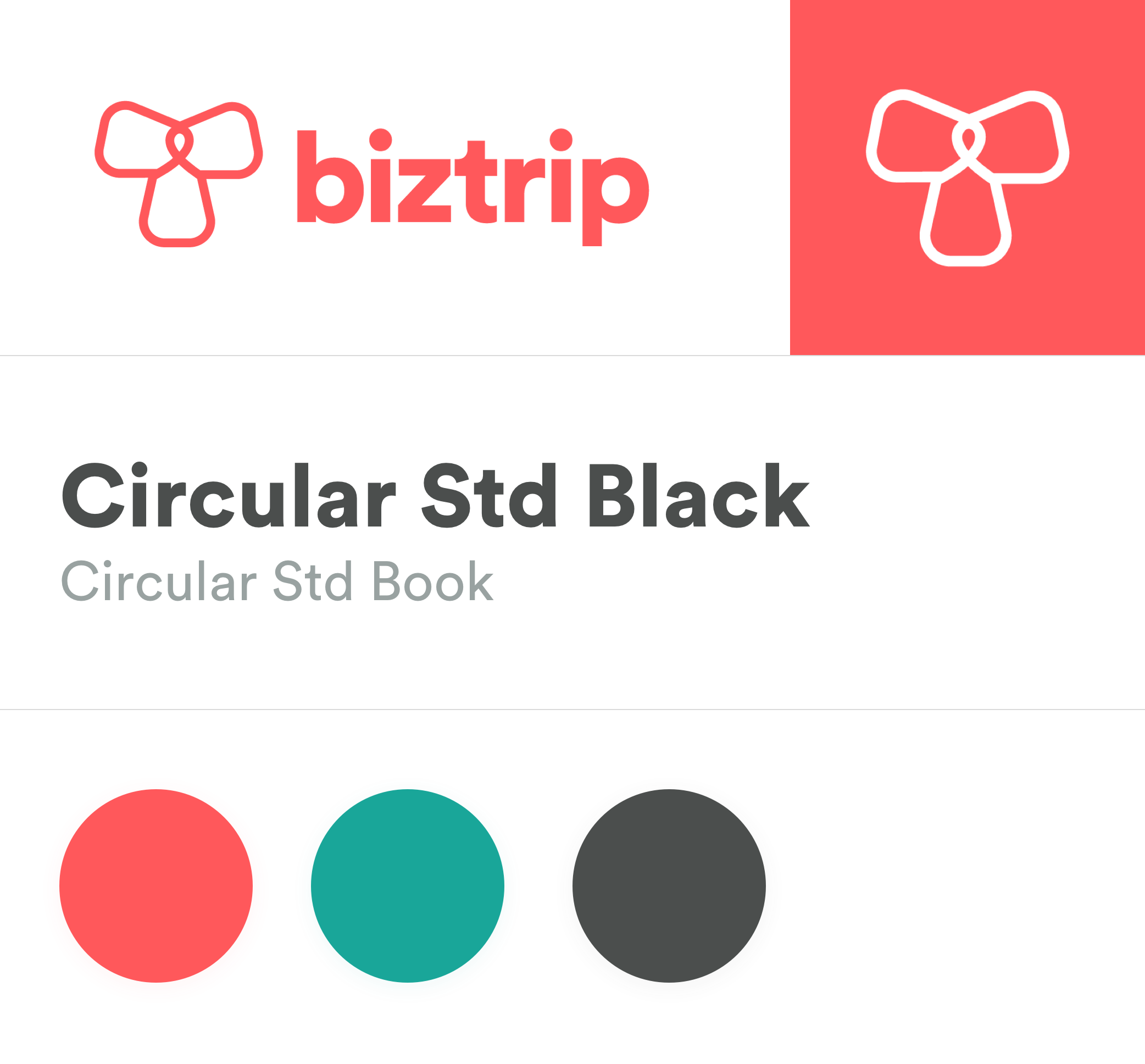 Look & Feel
As part of the design challenge, BizTrips's branding should be very similar to Airbnb.
I utilized their style guide to create the BizTrip brand, and kept in mind elements of their design system throughout the visual design process.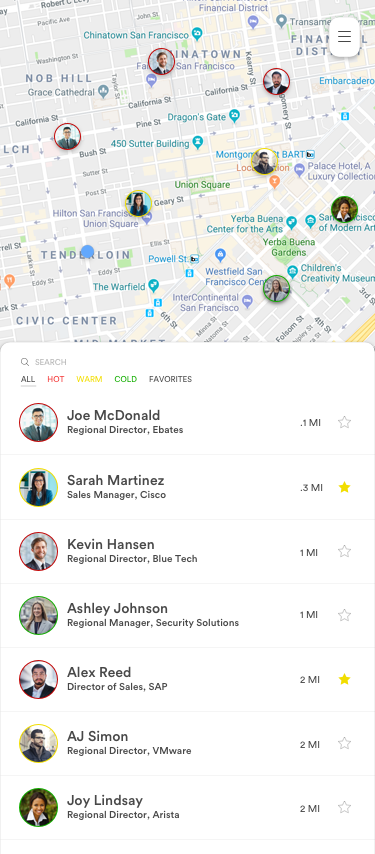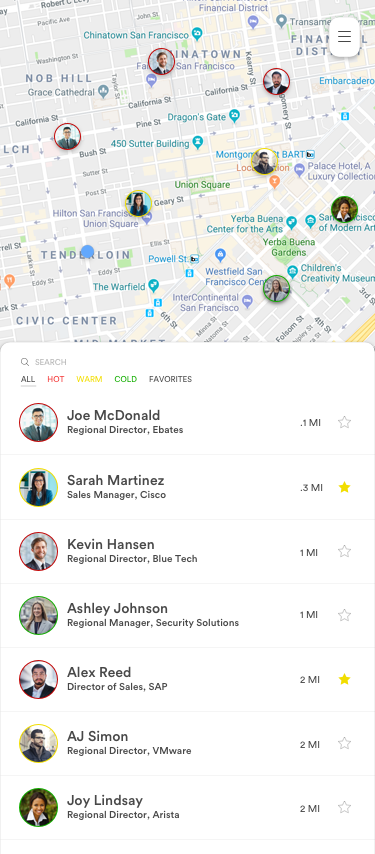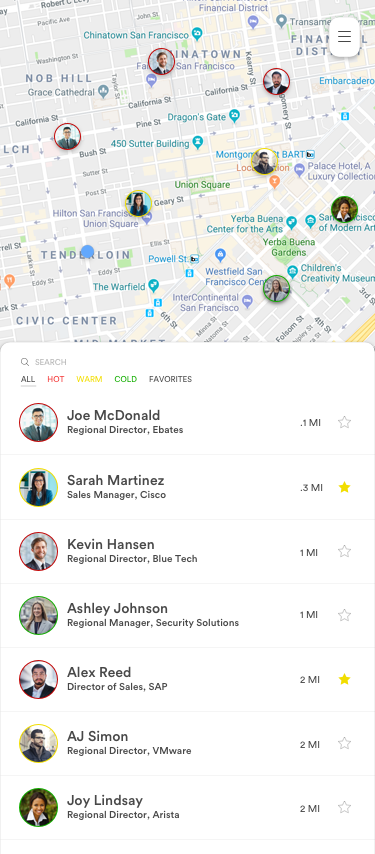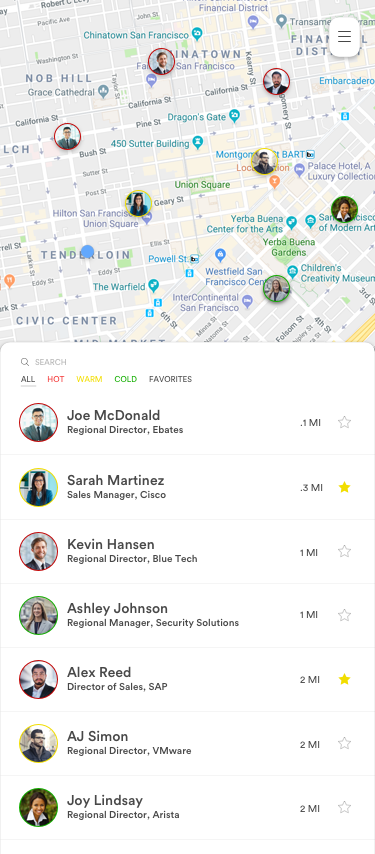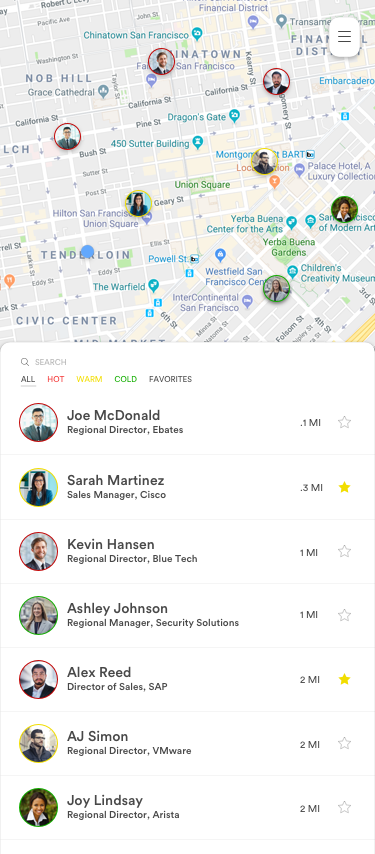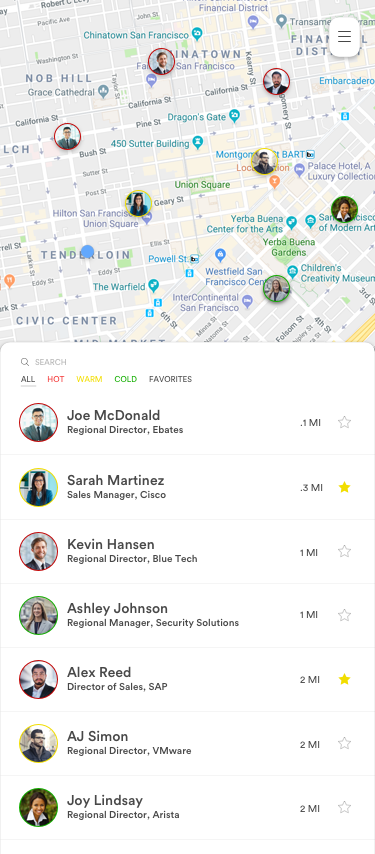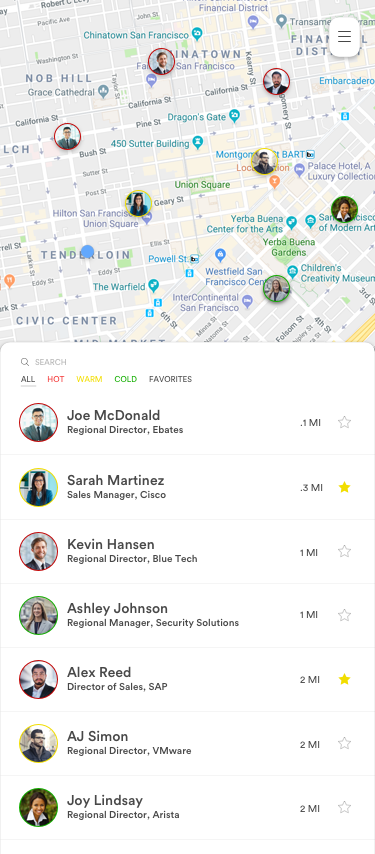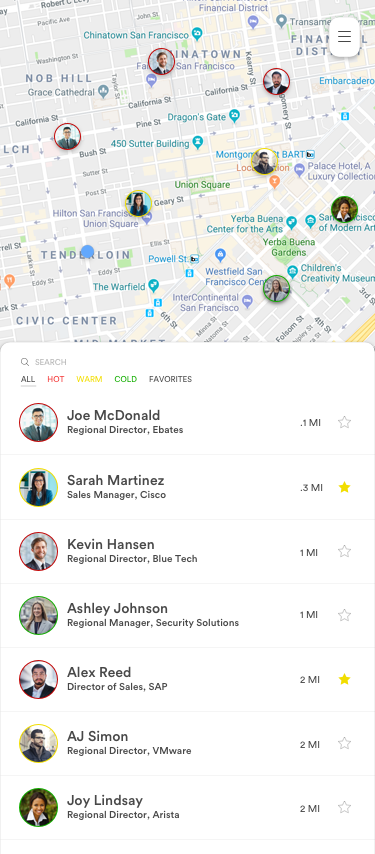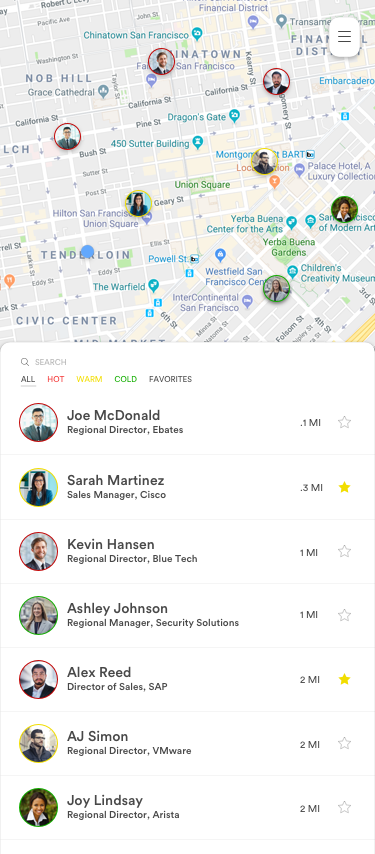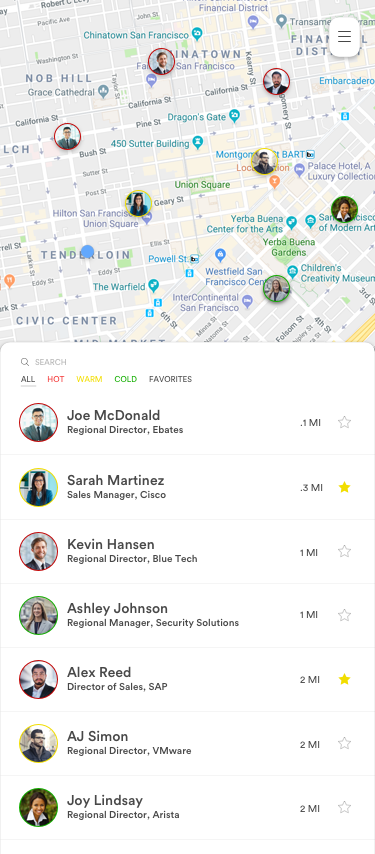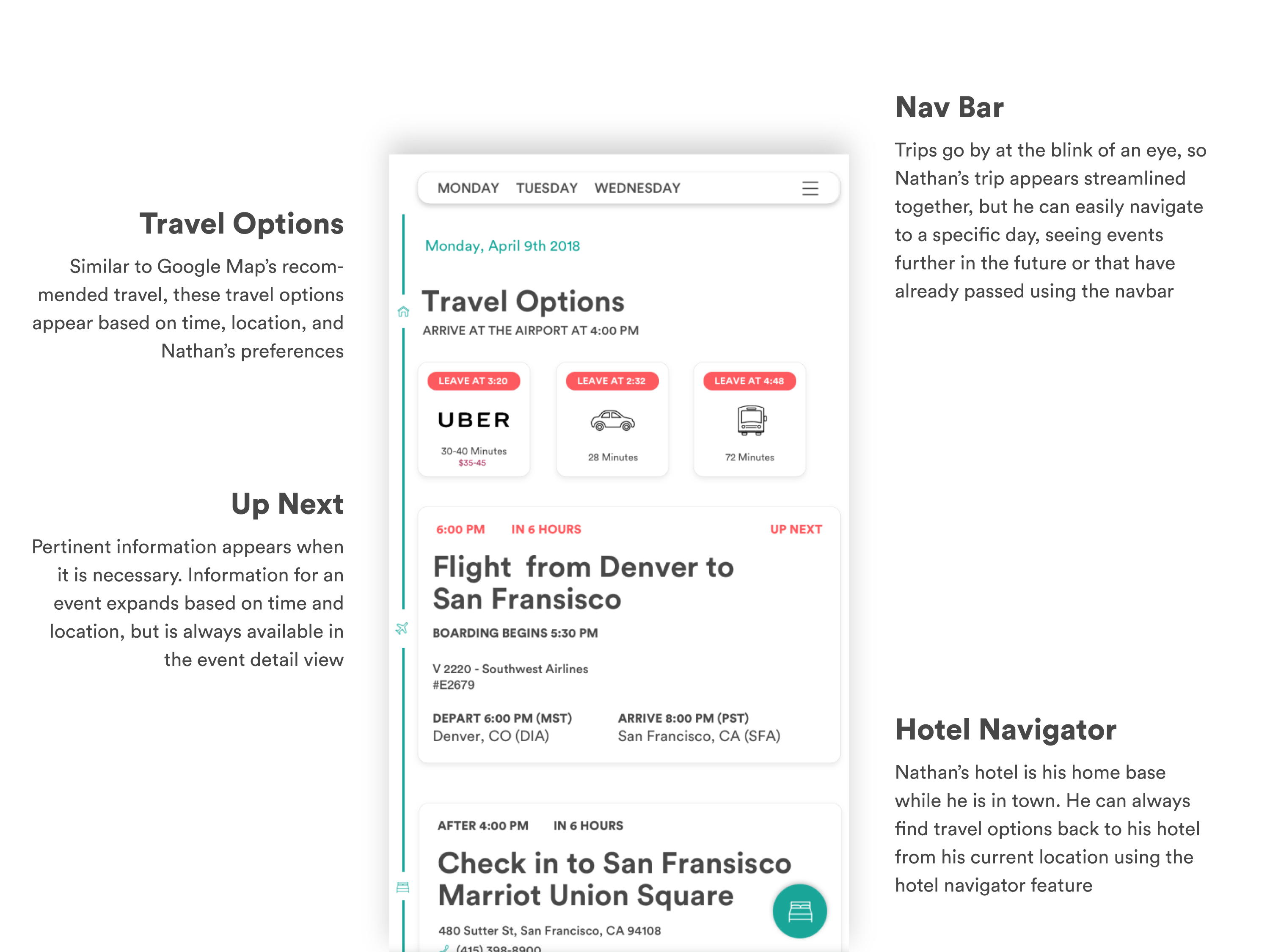 Travel Itinerary
Nathan's travel itinerary moves through the day with him, helping him always plan his next move. He can see a stream- lined view of his entire trip, details and recommended transportation options make his next event a priority.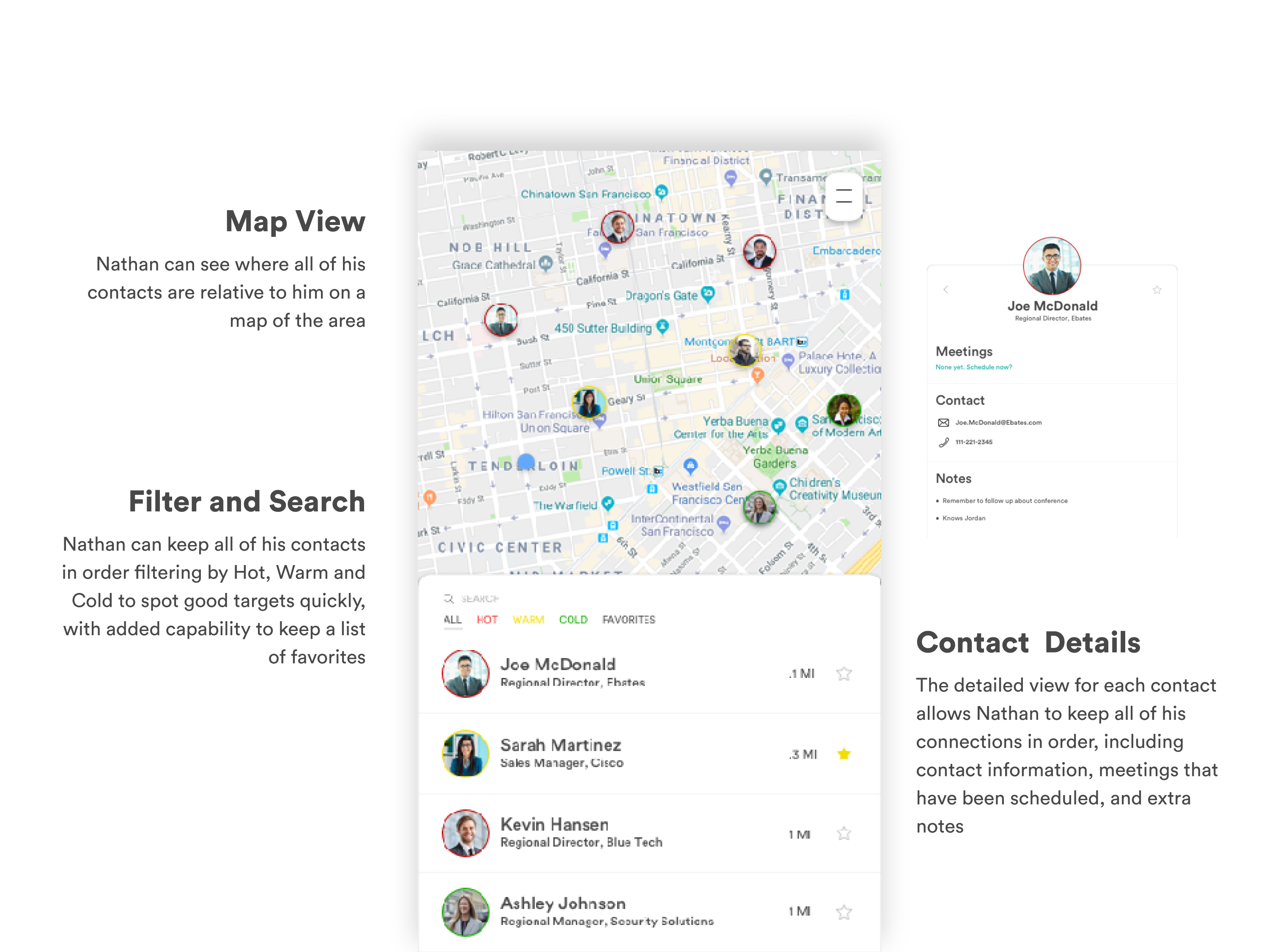 Opportunities
Opportunity view allows Nathan to see all of his contacts in the area, as well as their contact information, notes, and meetings he may have scheduled. With opportunity view, Nathan never misses a chance to connect.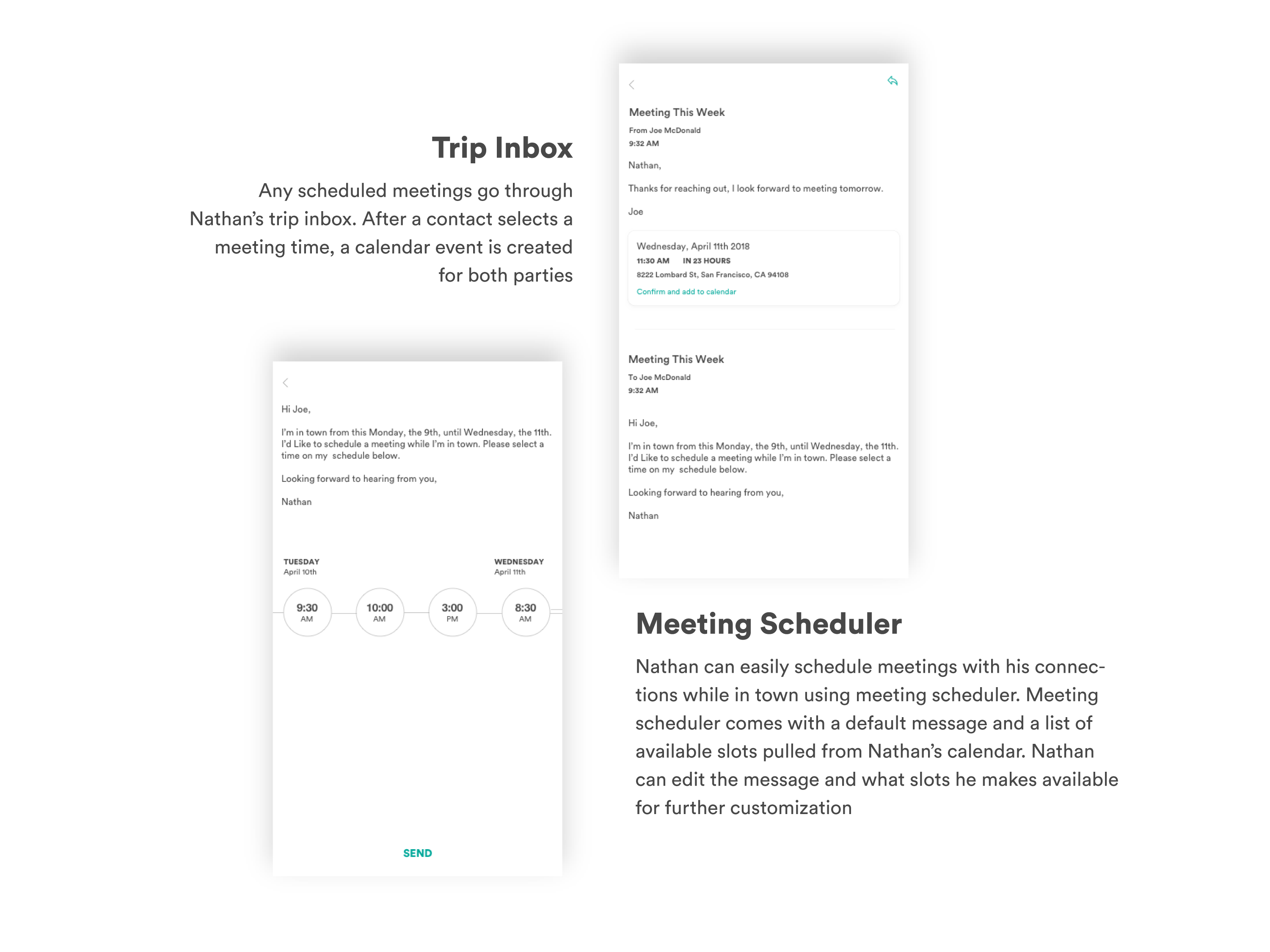 Meeting Scheduler
Nathan can schedule meetings through opportunity view, which is connected to his trip inbox. The meeting scheduler in combination with trip inbox allows him to focus his efforts on his present trip, free of extra inbox clutter.
Takeaways
The main constraint of this project was the 3 day time limit. Given more time, there's a few things that I would do differently for better results:
For an application that intends to be an all-in-one solution, user interviews could have told me more about our target users priorities for a business travel app.

The app I designed relies on significant integrations with other apps like airlines and ride-sharing apps. Technical feasibility would need to be addressed early on.

I would have included at least two rounds of user testing for usability issues. There's quite a bit to test here, so this could have resulted in significant changes.
The fast paced nature of this project challenged me to work quickly, stay organized, and make decisions about what the most important parts of the process here were. Ultimately, I'm proud of the result as a concept & vision, but would certainly need to take additional steps if BizTrip were to be taken beyond this.